Stihl 041 Farm Boss Manual
Description
EngineRun 01050 10 Pcs Gasket Set for Stihl 041 041AV 041 Farm Boss Chainsaws 1110-007-1050 1107-007-1050. 4.8 out of 5 stars 7. Get it as soon as Tue, Nov 3. FREE Shipping on your first order shipped by Amazon. Only 7 left in stock - order soon. RK-21HS for HS-87A, HS-100A RK-23HS for all HS-29A, all HS-77, HS-138, HS-208A. Lil Red Barn Stihl 041, 045, 056, Ignition Coil, Points and Condenser, Replaces Stihl 1115-404-3200 Coil, 1115-400-2000 Points, 1115-404-3400 Condenser 3.8 out of 5 stars 4 $74.95 $ 74. Manuals and User Guides for STIHL 041 Farm Boss. We have 1 STIHL 041 Farm Boss manual available for free PDF download: Owner's Manual. Stihl 041 Farm Boss Owner's Manual (30 pages) Brand: Stihl. Title: Scanned Document Created Date: 11:44:59 AM.
Stihl 041 FB Chainsaw Repair Guide
Stihl 041 FB Parts List manual, FB stands for Farm Boss suitable for most 041 chainsaws.. It is a free download available pdf format which has clear exploded diagrams to help you quickly find the part that you need to repair your Stihl 041 Farm Boss chainsaw.
Contents of Stihl 041 FB Parts List manual
Introduction, Specifications, Clutch, Engine, Ignition system, Rewind starter, Throttle control, Fuel system, carburetor, Av system, Shaft, Cutting tool drive, Support frame, Special servicing tools and aids.
Stihl 041 Production Years
Stihl 041 Farm Boss Repair Manual
041 1110 1967-1975
041FB 1110 1976-1986
041AV 1110 1967-1986
041AVE 1110 1968-1973
041AVS 1110 1977-1983
041AVQFB 1110 1981-1985
041G 1112 1968-1974
Specifications Of Stihl 041 FB
ENGINE DISPLACEMENT: 61 ccm (3.72 cu. in.)
NUMBER OF CYLINDERS: 1
CYLINDER BORE: 44 mm (1.73 in.)
PISTON STROKE: 40 mm (1.57 in.)
CYLINDER TYPE: Aluminum with a chrome-plated bore
INTAKE METHOD: Piston ported
MANUFACTURER ADVERTISED H.P.:
WEIGHT: 6.8 kg (15 lbs.) powerhead only
OPERATOR CONFIGURATION: One Man operation
HANDLEBAR SYSTEM: Rigid
CHAIN BRAKE: none
CLUTCH: Centrifugal
DRIVE TYPE: Direct
CONSTRUCTION: Die-cast magnesium
MAGNETO TYPE: Bosch flywheel type
CARBURETOR: Tillotson HS-181A series
MAJOR REPAIR KIT: RK-21HS
MINOR REPAIR KIT: DG-3HS/T
AIR FILTER SYSTEM: Nylon mesh cartridge
STARTER TYPE: Automatic rewind
OIL PUMP: Automatic, adjustable gear driven
OPERATING RPM:
IGNITION TIMING: 6 to 9 mm (0.24 to 0.35 in.) edge gap
BREAKER POINT SETTING: 0.35 to 0.40 mm (0.014 to 0.016 in.)
FLYWHEEL/COIL AIR GAP: 0.2 to 0.3 mm (0.008 to 0.012 in.)
SPARK PLUG TYPE: Bosch WSR6F, Champion RCJ7Y
SPARK PLUG GAP: 0.51 mm (0.020 in.)
CRANKSHAFT MAIN BEARINGS: Ball
FUEL TANK CAPACITY: 620 ml (21 fl. oz.)
FUEL OIL RATIO: 40:1
RECOMMENDED FUEL OCTANE: Regular grade
MIX OIL SPECIFICATION: Stihl two-cycle chain saw mix oil
CHAIN PITCH: 3/8 in.
Stihl 041 Parts Manual
SHORTEST GUIDE BAR SUPPLIED: 40 cm (16 in.)
Stihl 041 Farm Boss Shop Manual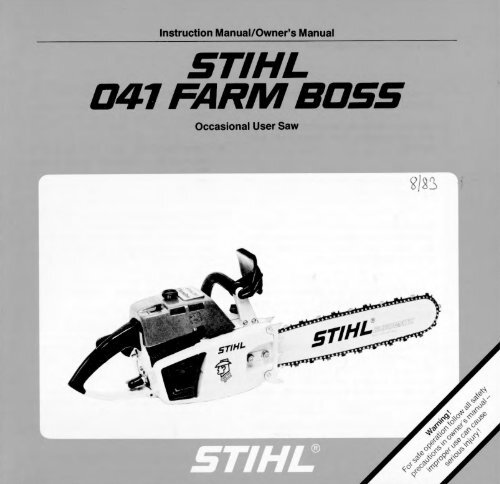 LONGEST GUIDE BAR SUPPLIED: 63.5 cm (25 in.)
Stihl 041 FB Parts List PDF